Feng Shui Wealth Pack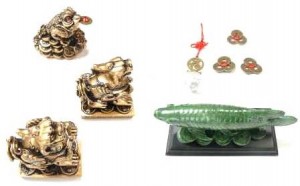 This pack has the key Feng Shui Wealth objects for 2015. They are suitable for everyone, and include
Pi Xiu (pair)
Feng Shui Crystal
Dragon Fish
Chinese Lucky Coins
Money Toad
Normally $82.75 altogether, the Wealth Pack discount price is only $62.95
How to use these Feng Shui Wealth Objects
Pi Xui (pair): a symbol to ward off evil energy, and to create wealth. Place a Pi Xiu on each side of the living room window.
The feng shui crystal: this is a crystal ball with a lucky coin and a red Chinese knot on top. It has very good meanings. We can hang the crystal ball in the north east, north, and south east windows to bring in the sun, and reflect the beautiful rainbow into your office or home.
Dragon Fish: A symbol of prosperity. Place it on your desk or on top of a display unit. It should face the inside of the house.
Chinese Lucky Coins: Round shape with a square in the middle, the circle symbolizes heaven and the square symbolizes earth. Carry a set of three coins in your wallet to symbolize prosperity growth.
Money Toad: In the Chinese tradition, this is a symbol of wealth. Put near the entrance of your house, facing the door.
All these objects are enchanted.