Welcome to Mina's Feng Shui Store
Here you will find essential feng shui objects to enhance your living space and prosperity. However, these objects achieve little unless chosen and displayed correctly
Watch the video opposite for Mina's introduction to feng shui objects and their use.
Then click on each object for specific advice from Mina on how to use the object, and whether it is right for you.
Click here to find your birth sign and the objects which are best for you

Crystal
Good Meanings
$18.00
Sheep

$10.95
Rabbit

$10.95
8 Loose Coins
$9.95
Small Dragon Turtle

$9.95
Fu Dogs (Pair)

$24.95
Feng Shui Bell


Good Luck
$12.95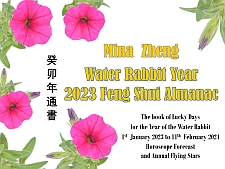 2023 Chinese Horoscope, Lucky Day Calendar and Flying Star Predictions
This 2023 Feng Shui Almanac has been created by Mina Zheng, based on traditional ancient Chinese sources. Use it to:
check your 2023 Chinese Horoscope
choose lucky days for major events
Start planning for 2023. Get the Feng Shui Almanac now.
Easy to use. No Feng Shui experience needed.
Download the 110 page eBook now
Price $19.95
or get a Bound hard copy
Price $39.95 – including postage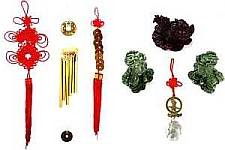 Wealth Pack
This pack has the key Feng Shui Wealth objects for 2020. They are suitable for everyone, and include
Pi Xiu (pair)
Feng Shui Crystal
Dragon Fish
Chinese Lucky Coins
Money Toad
Normally $82.75 altogether, the
Wealth Pack discount price is only $62.95