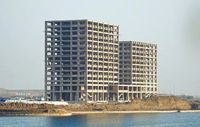 I read the Chinese news online today. Here is a story may be interesting to you.
The Governor who blew up a Five Star Hotel has been removed from his position.
The mayer of Huai Hai (淮海)City, An Hei (安徽)Province has lost his job recently. The reason related to the demolishment of a five star hotel.
In March this year, there was a new construction building along the lake on the south side of the government building in Huai Hai.  The building was built about ten levels high, it meant to be a five star hotel, called Lake Side International Hotel. The building crashed down in a huge explosion.
The construction was approved by previous government, and was listed as one of the main land mark projects of the city. To cut the long story short, the mayor Fang Xi Ping (方西屏)of the city was told that the hotel has blocked the feng shui of the government house. The mayor then used his power to order people to bring down this building. It has caused tens of millions of Yan loss for the investors.