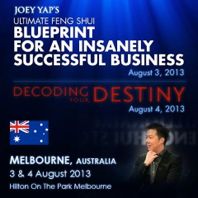 It was great news for Feng Shui lovers in Australia when Joey Yap came to Melbourne for seminars on  the 3rd and 4th of August.
Joey Yap is based in Malaysia. He is a talented feng shui researcher, and one of the best known Chinese Metaphysics authors. He is also a feng shui consultant, teacher and public speaker.  At age 36, he has produced more than 100 feng shui, Chinese astrology books. With his success he demonstrates the power of feng shui. With his hard work and team support, he has achieved the impossible.
It has been almost five years since his last seminar in Australia. This one was a great success,  rich with knowledge and entertaining. Joey's speeches opened up the Chinese metaphysics doors of life, and expanded the horizon of ancient Chinese art to modern use.
I really enjoyed the event and look forward to the next one. At the seminar, I met old friends and like minded colleagues, that was a plus.