Parramatta road is one of the main roads in Sydney, it runs from east to west, from Broadway to the Western Suburbs.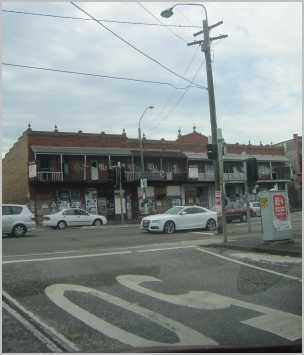 This road has a history as long as Sydney. There are many residential suburbs on the north and south side of the road. Every driver in Sydney knows this road.
Even there are thousands of cars passing this road daily, many busniess on the sides of the road are not as busy as expected, some of the places are quite rundown, and lot of business premises are often for lease.
From feng shui perspective, the road sybolizes water, the cars are fast moving energy, the road lacks parking, cars cannot stop, shops cannot capture the energy, hence business is poor. However I do have some clients who have businesses along the road and are doing well.
The shop on the picture has 箭杀 (Jian Sha), which refers to arrow killing. The shop is at the end of T junction, is faced by a road, and is not doing well.
If the council could add some charms, like planting flowers on the footpath, building some foot bridges, and providing public sitting areas and small parks, then the businesses on this road would do better, and this major Sydeny road would have a better appearance.