Tasmania was the only state I haven't been in Australia. During this holidays, we finally made a family trip to Tasmania to see this part of Aussie land which I had been longing for.
Tasmania is a beautiful place. It has many national parks. It has the one of the world's great natural ecologies.
We hired a car and stayed at a water front motel. Our room opened to a green lawn, the green lawn joined to a river, on the other side of the river is the famous MONA – Museum of Old & New Art.
Visiting the Mona Museum is an extraordinary experience. The museum is nothing like any other museums we have ever seen.
The museum is located at 655 Main Rd, Berriedale Hobart. It is sitting on the top of Berriedale peninsula. We walked into the museum gate, walked pass the big winery grape yard. Before the museum, there is a tennis court, and beautiful gardens. The leisure setting is not what most people expect for a museum. The relaxed environment is offsets the seriousness of the Old & New Arts. The feng shui of the location is very good. People can come by ferry from the water or by cars or walk on the road.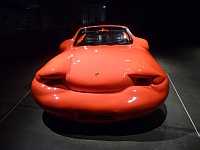 The museum is not a traditional building. It is an unusal piece of art. The main wall of the site is made of rusted red iron. The long red iron wall stands out in the blue water and the green garden landscape. From feng shui perspective, the five elements:metal, wood, water, fire and earth are in good balance. The iron wall harmonises with the soft trees; the land harmonises with the water.
The Mona Museum has three levels. The building does not go up, instead is goes down. From the lobby, we took the lift down to basement 3, and then moving up to B2, B1 and ground floor. In feng shui  "a deep hole" has positive and negative aspects. It collects Qi, but the outlet is not very good. It needs lot of effort to balance the energy.
I was not only impressed by the museum, and the art collections but also the founder of the museum. The museum was privately funded by David Walsh, who was a professional gambler and a genius card player. He turned the gambling profit into the museum to benefit the local community and general public. I think what he does is great.