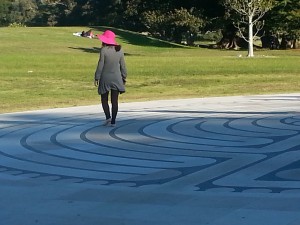 Recently, during the school holidays, we had a family outing to the Sydney Centennial Park and visited the labyrinth.
Sydney centennial park is an amazing place. It is huge and beautiful (about 189 hectares), and located at about 4km SE from CBD. It took us about 15 minutes to get there.
It was one of the beautiful days in winter. We parked the car at the nearest gate from our home. With by my husband, son and a dog, we went in search of the labyrinth. We walked on the green land, passed three lakes, and finally found it.
The labyrinth was not what I had in mind. I thought it might be a maze or a structure which people get lost in it. Appearing in front of me was a round stone plate form with curved patterns on it.
The sun shone on the labyrinth. The beige fine carved stones were shining in the green land.
I walked on it with bare feet. The warm stone gave me a very good feeling, and I followed the path carefully. The curved lines brought me inwards, outwards and inwards, ending up in the centre. Then, following the path again, I walked outwards, inwards and outwards to come out.
As a feng shui professional, I observe everything with feng shui eyes. The labyrinth has a great environment, green hills, water, trees, sunshine and open.
In feng shui we talk about the Qi (energy) flow of a certain space. The labyrinth is flat, it has free energy flow. However, the curved winding paths create magic Qi flow. The path have no dead end, you won't get loss. Amazingly, the complicated pattern only has one path, like one life, one universe, everything united to one.
Walking back and forward on the labyrinth, is like the journey of our life, start from the beginning end at the beginning.