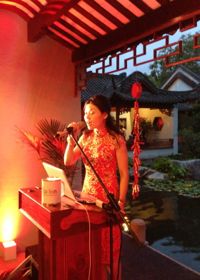 Recently, I have been engaged by St George Bank to do feng shui speeches for corporate events, to celebrate Chinese New Year. Speaking to a few hundred people is not something I do everyday. But to speak about something I know so well is not hard, and I could talk all day.
The difficult part was to present such a big topic within ten minutes. What should I say? I gave it some thought and chose to talk on three areas: A brief introduction about the Wood Horse year, and the investment luck for different signs; The Flying Stars for 2014, good areas for investment; Feng Shui tips for buying a house. Before and after the speech, I sat there for one to one consultations.
The events went very well. Everyone loved it.
The picture is from one of the events at the Darling Harbour Chinese Garden.