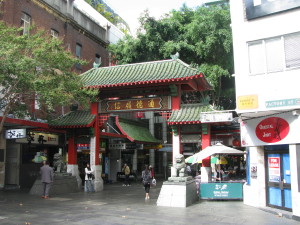 Recently, I was engaged to do a feng shui consultation for a place in Sydney Chinatown. The project is to convert a top floor attic like space into a co working space in the centre of Dixon street. I was surprised to see that such big area in the heart of Chinatown had not been used for more than ten years.
I was therefore analysing feng shui for this part of the street and its surroundings.
Dixon Street Haymarket is one of the main parts of Sydney Chinatown. It is a walking street with red PaiFang (Chinese gates) and a pair of guarding lions on both ends of the street. These Chinese symbols mark streets as Chinatown outside of China.
Dixon street was prosperous for a long time. However, in recent years, there have been many developments in its surroundings. The Qi flow has changed a lot. Some years ago,the north part of Dixon Street was a back lane way,full of garbage bins. Now it is full of restaurants and life. The Darling Quarter was built in recent years, it has been a successful development. The north part of the Dixon street joints to the Darling Quarter, it has very positive Qi flow.
The south part of Dixon street, which is the traditional part of Chinatown, is joined to Hay street. Across Hay street is Paddy's market. The massive market draws Qi from its surroundings. It has killed the gift shops in Dixon street. From the west of the street, the huge Darling Hourbour Entertainment Centre redevelopment is disturbing the energy flow, and has negative impact on the street. However, when the construction is finished, it will be good for this part of Dixon street. The East side of street is unchanged, it has stable energy.
From the SE direction, there is intersection of Hay street and Thomas street. I was involved with the feng shui planning in that area, the work has recently been finalised. The widened walk path and beautiful artworks bring good connection to the Dixon St, adding positive energy to this area.
On Dixon street, the trees have over grown, the leaves now block the sun, and overshadow the street. It is negative. To improve the feng shui for Dixon street, we can trim the trees, and let the sunlight shine to the ground. Adding more vivid lights at night will bring more night life to this area.