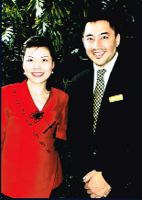 I was invited by Green Cliff Agency to be part of  a celebration event for Central Park Sydney. The event was tonight, and I spent the evening at a  party venue at Central Park Sydney. I was to be a resident Feng Shui Master, providing mini Feng Shui Consultations for the apartment buyers. The experience was very interesting.
Central Park Sydney is an iconic development project. It located in downtown Sydney, near Central Station, opposite UTS, and close to Sydney University and the Broadway shopping Centre. The unique vertical green gardens and beautiful art works have attracted many buyers.
The party was a big success. More the 300 people attended . I was surrounded for most of the evening, and stayed 'overtime' to sastifiy clients who had waited to see me.
During a short break some pictures were taken, including the one above with Marcus Chan, the director of Green Cliff Agency.