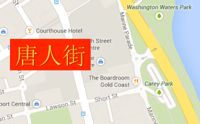 Recently, I was engaged by Gold Coast city council for feng shui consultations for the Gold Coast Chinatown development.
This is the second time I have been involved in China town developments in Australia. The previous one was the Sydney Chinatown upgrade
My tasks were to consider the elements that a China town should have, to enhance the good feng shui for the streets, and to input some  Chinese culture and traditional beliefs into the new China town in Gold Coast.
I believe that the Gold Coast China town will bring prosperity and vitality to this coastal city. It will add a sense of home and community to both permanent residents and international visitors.