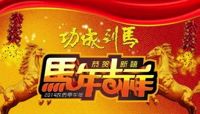 Today is the first day of the first lunar month of 2014. It is Chinese New Year's Day.
2014 is the Horse year, this year brings strong fire element. It symbolises strong and powerful energy and success.
Wish your year is full of sunshine and joy.
Hope you have great health, wealth and achieve your dreams.