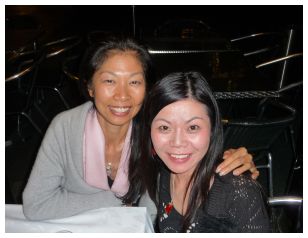 As my previous post mentioned, Daisy Lee is a renowed international Qi Gong teacher. She was referred to me by a family friend in America. I went to her work shop  last weekend and learned a lot.
Life depends on movement. I like exercise. My father who is a grand master of Tai Chi/Ji had trained me for about ten years when I was young. I was fed up with his control and discipline. When I moved to Australia in 1990 I changed my interest to swimming,  had myself trained by Australian swimming coaches, and enjoyed the big swimming pools in Sydney. Time goes quickly, age goes up every year. I know that it is the time to pick up  Qi Gong. Qi Gong enhances the internal energy, it also can heal some sicknesses and weak areas of our body.
Daisy has practiced and taught Qi Gong for more than 15 years. Meeting Daisy is one of the great things in this year. Inspired by her perseverance and wonderful energy, I like to keep my Qi Gong practice going.
It was wonderful to hang out with Daisy at Circular Quay last night. Hopefully she will return to Sydney soon to teach more Qi Gong. I will let you know if she does. Please visit her site at www.radiantlotusqigong.com