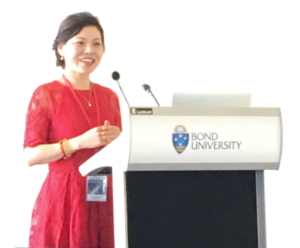 Last weekend, I have had a great time at Gold Coast at the AFSC Conference. Big thanks to Perrie, Kony and all the AFSC committee members for their great effort to put the event together. It was a success.
The venue was at the Bond University. It has beautiful surroundings with green fields, gentle water, and artistic buildings. The weather was superb, blue sky, white clouds and warm sunshine.
Most of all, it was wonderful to catch up with old friends and meet new friends. All the presenters did a good job at the conference. My topic was "Sneak Peek at the Year of Dog 2018". I hope we have seen good scenery through this peeking.
Photo by Dr. Carol Hardwick