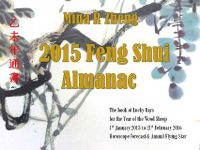 Hi there,
It has been a while since my last post. I have been busy writing a piece for Chinese media and  preparing the Feng Shui Almanac for 2015, the Wood Sheep year.
2015 looks bright and stable for most people.  To be lucky we need to be at the right place and at the right time. This almanac outlines the lucky days for you to conduct major events in 2015, to enhance the chances for smooth operation and success.
My 2015 Feng Shui Almanac also includes the 2015 astrology forecast and 2015 Flying Stars and remedies.
The Almanac is available as an eBook. Please find it at https://fengshuiaustralia.com//chinese-horoscope-2015
It is the time to plan ahead. It is not about what the year ahead holds for you. It is about how to  make the Sheep Year a great year for you.
Yours Sincerely,
Mina R Zheng