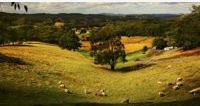 It is always a pleasure to visit Adelaide. Adelaide is the capital city of South Australia. It is different to Sydney or Melbourne. The city is more peaceful. When you drive out of the town, the green and gold hills rise and fall all the way towards the south end of Australia. It was beautiful.
Me and my family have been visiting Adelaide once a year for 12 years since I met my husband. He was brought up in Adelaide.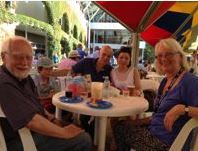 Adelaide was very hot (about 37 degrees) during this visit, but we made a great time out of it. We met family, friends, visited farms and drank more than I should of SA wine. It was good to switch off from work and relax a bit.
During the visit, there were highlights everyday. We went to the Nth Adelaide Aquatic Centre. My son is 10, he is a good swimmer. We enjoyed swimming and water slides. We went to the Adelaide Oval in one evening to watch the 'Big Bash League' cricket game. Adelaide Strikers Vs Perth Scorchers. We supported the Strikers. There were 42,650 in the audience, it was a good game. The night was hot, the box of chocolates we brought to the game melted. We visited a friend at Aldgate, a colourful village on the mountain side of the Adelaide hills, with nice houses, winding roads, colourful flowers, trees everywhere, good energy flow and good feng shui.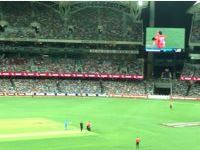 There were also some clients waiting to see me in Adelaide. One of them is new. My new client is a very hard worker who brought up 4 kids on her own. One thing that struck me was that she worried about her adult kids, waiting for them to settle down happily so that she could be happy. I admired her strength. But we should not wait for happiness, we should look into the bright side of life and be happy everyday.