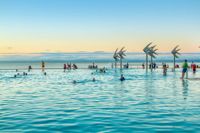 As a Chinese Feng Shui Consultant, I have always been very busy with work at the end and the beginning of the year. I don't remember ever taking a proper holiday in the holiday season in past ten years. However, this year I decided to take a holiday when most people are having holidays, no matter what.
My holiday destination was Cairns. Cairns is in North Queensland, Australia. It has tropical weather, hot throughout the year. The heat of the city attracts me, I have been there a few times in the past two decades. This time things were different. I wasn't travelling alone, my son and husband were with me.
We arrived Cairns on New Year's Day. Picked up a rental car, we drove to one of my investment apartments in Cairns. We felt home when we were there. It was a lot hotter then Sydney, as expected.
It has been a great holiday. We spent some time at the local beaches, visited the Cairns city centre, night markets, Port Douglas, Green Island and the rainforest at the Atherton Tableland.
The city of Cairns is situated on a harbour with mountains behind and water in front. The colourful, vibrant city centre and a huge public swimming pool with art decorations along the harbour  foreshore make the city a beautiful holiday resort.
My highlights of the trip were visits to Port Douglas and  the Atherton Tableland.
Port Douglas was one of the famous ports in Australia. It's about  a one hour drive from Cairns.  Port Douglas is surrounded by white sand beaches. It has a beautiful shopping arcade, bars, restaurants and streets. It has been a hot spot for some of the hollywood movie stars. However, the beauty of Port Douglas is not too much different to the beaches I have seen in NSW. The difference is there is a family friend who lives there.
We visited her. She has been living in Port Douglas for fifteen years.  My husband told she was as an extremely beautiful lady, who has also been important to his family. I was longing to meet her. We met her at the beach. She is in mid sixties, still attractive. After a long conversation, I told her what my husband said about her. She was modest, and told me that to be beautiful is not enough, you need to have something inside to back it up. She is an artist, and well known in Port Douglas. Looking at her art works, and knowing all the years she spent on painting, I have no doubt of her backup.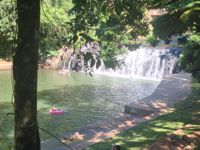 Visiting the Atherton Tableland made a very different impression to Cairns. The Atherton Tableland is about a one and  a half hour drive from Cairns. The tablelands are around 700 metres above sea level. Many people think Cairns is a place to get to the Great Barrier Reef. It is. However Cairn is not only a gateway to the reef, colourful fish, corals and the sea, it also has rainforests and beautiful lakes.
We first stopped at the Atheton town centre a have a break and a look around. After that, we visited Malanda Water fall. It was a small water fall with a lovely pond under it, nothing magnificent or breathtaking. However I was astonished when I saw Lake Eacham. It was a large lake in the heart of the table land, surrounded by the rainforest. The lake was very calm with the colour of jade. The water was clear, I could see fat fish and turtles swimming happily in the water. There were also people swimming in the lake. The lake is a blessing for people who live or visit there.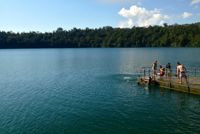 Cairns is very special. The city has good feng shui. There is more to discover. However this post concludes my holiday to Cairns.