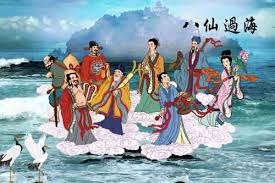 It was nice to visit China in the middle of the year. I like summer. It was a good winter escape for me. The trip this year was quite different to previous years.
I have been in Australia for nearly three decades. My parents are still living in China in the city where I was brought up. In previous years, my first destination to China has always been my home town in Fu Jian.
In the time I have lived in Australia, China has experienced strong economic growth, rapid developments and change. The country has shaped into a very different image today compared to the old days. People's life style and attitudes have also changed. Travelling, holidays have become trendy in China. Under the influence of this new energy, my parents have developed a new habit, to spend time in a place far away from hometown for their summer breaks.
This year they stayed at one of the holiday places at a beach side in Shan Dong province. It is about 1300km north from my home town. Therefore, I flew to Shan Dong from Sydney directly, and missed Fujian this time.
It was my first time to visit to Shan Dong province(山东). Shan Dong literarly means east side of mountain, or mountain east. It is a peninsula in eastern China, about 340km SE of Beijing. Opposite the water (Bohai Bay) is South Korea. The famous mountain in Shan Dong is Tai Mountain (泰山), which means Grand Mountain in English. I was excited for the visit. I flew directly from Sydney to QingDao, then transferred to Wei Hai to meet my parents at their holiday house. Qing Dao city is well known for its beer — Qing Dao Beer. I visited the beer company after landing and drank the beer for daily refreshment throughout the holidays.
Shan Dong is a peninsular. It is girded by the mainland, yellow sea (黄海) and Bohai Sea (渤海). I spent most of the time in Silver Beach. It is one of the longest beaches in China, about 21 km. The trip was wonderful. I visited a few tourist attractions. The most unforgetable scene was the Penglai Fairy Island (蓬莱仙岛). The fairly island is famous of the Eight Imortals Crossing the seas. And ancient emperors visited the island to seek for eternities.
In the area where the mountain meets the water, the feng shui is great. It was peaceful and benevolent. I have gained many precious things from this trip. The open scenery, fresh air, organic food, happy tourists, unpretentious local residents and the pure magnificent energy from the Bohai Sea have formed a beautiful memory, which will stay with me for ever.