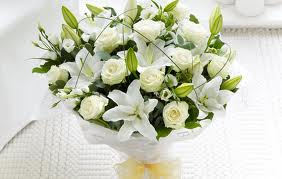 My mother in law passed away two weeks ago in Adelaide. Attending her funeral was an unforgettable experience.
It was a sad event. The funeral was held in a church in North Adelaide. About 400 people attended. My husband and his siblings did the speeches. It was an excellent celebration for her final departure.
My mother in law was a philosophy teacher at a college. She was also a pianist. She became a music conductor and a singing teacher after she retired. From the funeral I could see she had a big life and had been influential. She had spent many years in church helping people. She loved her children and family.
We lived in different cities. Fortunately, we spent some time together. I  always enjoyed the conversations with her. I am a Buddhist and she was a Catholic, we often talked about religion. Those discussions and arguments had no end, and it remained that way. I loved her singing. She sang 'Amazing Grace' at my wedding and many other events. Her singing was very blessed.
Many women do not get along with their daughters in law. One day I asked her this question. She answered: you brought happiness to my son, why should I take it away?
She was a very brave person. Her attitude towards her sickness (cancer) was very positive. She overcame the sickness twice, failed at the third time. Her courage  and love  will be remembered by us. Wish that she rests in peace.