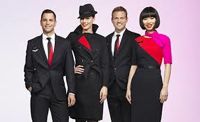 Recently, Qantas's new uniform is all over the media. It is good to see it during my Melbourne trip this weekend.
I haven't travelled for a few months. Mainly because I needed to be in Sydney to finish some work.  There were two reasons for me to go to Melbourne this weekend.  One is to see some of my clients, the other is to see my step son's movie screening. It has been a wonderful trip.
I'm  at the Qantas Club in Melbourne airport , and have some time to write this post.
During this trip, I noticed the Qantas staff are wearing the new uniforms. After using the previous uniform for ten years, Qantas had finally changed to a new one. I would say that the new uniform has certainly given passengers fresh images.
The uniform is designed by Martin Grant. The main colour is black, with red and pink strips diagonally cross the front top. The designer got the idea from Qanta's logo – The Flying Kangaroo. The uniform is well designed and tugs the body more. It added a lot of charm to the staff.
From a feng shui perspective, aviation belongs to the fire element, red is good for the business. The new uniform has adopted the red triangular shape from the Qantas logo. The red and pink colours are very bright, balanced by black. The triangle shape of the red pattern matches the Flying Kangaroo, showing dynamic moving energy. You don't need to have a perfect figure to wear black. This makes it easier for the work force.
For male workers, I noticed the main difference is the tie. The corporate ties have the red triangles on them. This matches the concept of the flying kangaroo.
I believe the new uniform will bring positive energy to Qantas.