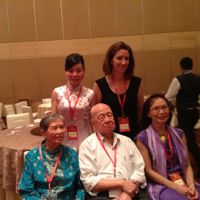 I was invited to be a VIP guest at the 2nd International Feng Shui Culture Convention recently. The event was in Kuala Lumpur Malaysia. The 1st conference was held in GangZhou city, Jiang Xi province, China. The city is Yang Gong Feng Shui's birth place. I got to know the event when I was doing feng shui study and research at the same city.
This event was hosted by the Malaysian feng shui association and Grand Master Yap Qing Hai's Feng Shui Academy. There were sixteen countries, with about 250 people attending the event. However, only two delegates were from Australian: Boom Yap and me. We proudly  represented Australia at the opening Flag Ceremony.
The convention took four days. The slogan of the convention is One World, One Feng Shui. The convention was held at a five star hotel One World Hotel at Bandar Utama at KL Malaysia. A few decades ago, Bandar Utama was a banana farm, it was feng shui planed by Grand Master Yap. Now, Bandar Utama is a big new township containing an international standard hotel, shopping centre, golf course, colleges, and thousands of apartments and houses.
The convention was full of surprises. I met Grand Master yap and many other masters. The event was sponsored by many organisations. I met many new friends, learned some new things, enjoyed the party, food and sightseeing. The next event will be held at a Bali in 2016. Hope you can join me.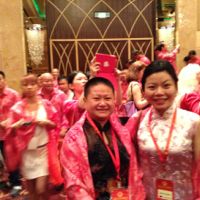 Pictures from top: Mina with Grand Master Yap Qing Hai and his   family. Middle: Mina with international feng shui masters. Bottom: Mina with Chinese delegates.