May 2013 has been a big month for many people. It was a Fire Snake month (from 5th May to 4th June). 2013 is a water Snake year, the elements of the month clashed against the elements of the year. It was a month of 伏吟 (Fu Yin), which means moaning, emotional turbulence. It was also a month of traveling, moving, changes. It was also a month with more accidents and natural disasters, e.g. tornadoes in America.
People who born in a pig year, snake year, monkey or tiger year would be more likely to have the above experiences. People who have pig, snake, monkey or tiger sign within their BaZi or luck pillar could also have some of the unlucky experiences.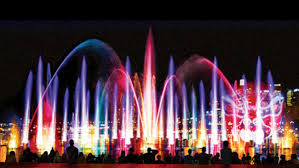 However, it was not all bad in May. When water and fire elements balanced, it symbolised great prosperity, and good luck with descendants. One of the great things in Sydney is the Vivid Festival. It brightens up Sydney harbour and brings perfect balance and happy vibes to the city.
From 24th May to 10th June 2013, 6:00pm to Midnight, Sydney Darling Harbor, Circular Quay, Harbor Bridge and the city prescient are full of vivid lights. The flood of light transforms the city into a dynamic, colourful, lively and artistic place. The great lighting techniques plus the wonderful imagination add luminous night blossoms to Sydney.
I spent a night in the harbour with friends, enjoyed the amaging scenery. I strongly recommend every one to visit the Vivid Festival. In particular, people who have been unhappy should take time out to be part of this wonderful celebration.