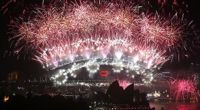 I watch the fireworks on New Year's Eve in Sydney almost every year. It is a wonderful way to celebrate the ending and beginning of a year. Although the Chinese New Year starts in one month, the solar calendar has already moved to 2013.
Last night we walked down to Balmain East, the Harbour front, to watch the fireworks. A friend lives there, we are invited to their place on every New Year's Eve. It was great to catch up with friends, drinking, relaxing,  and watching the fireworks.
Sydney is the first city in the world to celebrate the New Year due to its time zone. The government spent six million dollars on the fireworks to celebrate the New Year. Sydney is built around the most beautiful harbour in the world. When the fireworks started, the shooting noise, the multiple colours and vivid lights brightened up the sky. It went on and on. The magnificent images of the fireworks made the harbour splendid.
Thanks to the ancient Chinese who invented fireworks, and helped the world more beautiful. The best way to watch fireworks is near the water. With the water background, the fireworks look huge and very close. Withe the fire above, and the water below, they form a glorious image of harmony and success.
The Chinese believe the fireworks noises are to ward off bad luck, the brightness is to celebrate the safety of the past and welcome the new beginning.Hope you were safe in 2012, I wish you have a very great year in 2013!