Weekend Market at the Rocks
My latest visit to the weekend market at the Rocks was last Sunday. The market is at the northern end of George Street, Sydney, next to the Circular Quay, with the Opera House nearby. The Rocks is one of the most beautiful parts of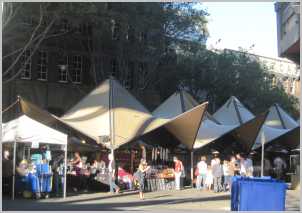 Sydney, it has many heritage buildings and contains a rich history of Sydney. From Friday to Sunday, the streets in the area are closed for markets, selling tasty food, art,  craft work and fashions. This is attractive to tourists and local residents.
What drew my attention the most was the unbrellas among the stalls, they all point upwards, matching the Opera House roof. From a feng shui perspective, the shapes of the unbrellas relate to the fire element, with fire element sitting on top of the earth (ground), this forms an I Ching hexagram 火地晋(fire above, earth below — Jin), it represents progress, symbolises the sun rising above the earth, brightening the horizon.
Indeed the weekend Market at the Rocks is very successful in terms of business, and also a lot of fun.